How to Visualize Chess Combinations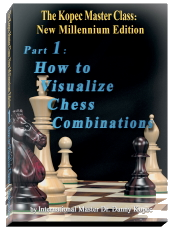 This DVD has the same content as the previous "How To Visualize Chess Combinations" (produced in 1994 by Bob Boylan), but the visual component is a completely new video production. It incorporates 3D animations, all new titling graphics, new recordings of all on-screen segments of Dr. Kopec, and an all new graphic representation of the chess play and analysis. In addition there are images of most of the players mentioned in the DVD. This high quality production, coupled with an unequaled level of instruction, provides an experience unparalleled amongst chess DVDs to date.
Don't miss a chance to experience the highest level of excellence in the chess video arena! Also planned to be released in Blu-ray.
120 Minutes
People who bought this item also bought